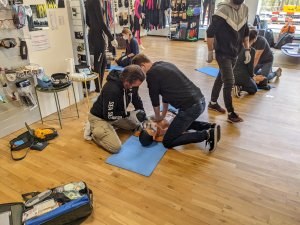 Active violence is intentional harm directed to people in a confined and populated area. As we discussed in an earlier blog, there are many myths about this kind of violence that are perpetrated in the media. Because of these misconceptions, it may feel as though an active violence training course is not necessary for you and those around you. However, it is a sad truth that active violence can happen anywhere, at any time, and be carried out by complete strangers or familiar faces. Despite what we see in movies and the media, there is no single archetype for a perpetrator and nor a "perfect victim" in cases of active violence. It is important to take the time to understand the reality of active violence and active shooters, and to be trained to survive in these all-too-common emergencies.
To avoid misconceptions and be prepared to respond appropriately to active shooters or active violence, the best thing you can do is sign up for a training course run by experienced professionals. In A Heartbeat's new program, Surviving Active Violence Emergencies (SAVE), is designed to empower individuals with survival skills training that will help them respond to emergencies until law enforcement arrives.
Our People & Process
Most active shooter training will use a variation of mediums to portray their messages. At In A Heartbeat, we use PowerPoint presentations, videos, and physical demonstrations in order to engage our students and ensure all types of learners are catered to. Our training primarily focuses on active shootings, but the content is also helpful for domestic violence, disgruntled employees, political protests, and any other forms of violence that are of concern to our clients.
In A Heartbeat is unique in our commitment to surveying our client's site before the training session. This offers a specifically formatted course that is tailored to the risk factors of your facility, meaning you will be better equipped to respond to emergencies in that setting.
Regardless of how well-researched or well-planned a training session may be, if the people delivering it do not have relevant experience then their ability to effectively train and answer questions is limited. At In A Heartbeat, our instructors have decades of experience in law enforcement and the fire service, and have dealt with active violence cases on a regular basis. The instructors' experiences in handling and responding to these situations places us in the ideal position to teach and educate on emergency response.
Situational Awareness
Any high quality training course equips you not only with the physical skills to respond to a violent emergency or active shooter, but also provides you with the ability to spot early signs of danger and respond before an emergency becomes fatal. This is also known as "situational awareness" training and it is one of the most important aspects of the SAVE program. Knowing the signs of what danger may look like and responding proactively is one of the most important life-saving skills you can learn.
Response Training
Active shooter response training teaches tangible skills in terms of how to act in the face of such a threat, but it is important to note that there is not one single reaction that is consistent for everyone. Educators will explain that people experience varied emotions and reactions in these moments, and so it is not possible to offer a one-size-fits-all course of action. The sessions cover the possibility of fight, flight, or freeze responses and teach students the best way to find safety based on each of these reactions. The SAVE program discusses the use of cover and concealment, how to secure a room against the threat, and gives advice on when fighting back is appropriate and how to approach it. Our teachers offer guidance and advice that can be applied to varying circumstances and mixed emotional responses.
Medical Training
Along with situational awareness training and survival strategies, you will learn methods of medical interventions that could save lives after violence has occured. One of the features of our new SAVE program is training on how to perform chest compressions during CPR. We complement this with education on operating an AED to provide our clients with the skills to save lives.
Active violence training programs also tend to involve training on critical bleeding control techniques, such as applying pressure, packing wounds, and using tourniquets. While this course is not a substitute for medical training in tactical emergency casualty care, it is meant to provide you with the knowledge necessary to increase the chance of survival of yourself and those around you until professional medical support arrives.
Law Enforcement
The course also provides training on what to do before and when law enforcement arrive on the scene. With members of our team who worked in law enforcement, In A Heartbeat is perfectly placed to advise you on how to make the most of their support. Depending on your distance from emergency dispatch teams, it could take time before police and paramedics arrive. While waiting for them, you need to know what action you should and should not take.
Get Prepared, Sign Up for SAVE
You are your own first line of defense! In the case of active threat scenarios and emergencies, know the exact steps to take instead of letting panic take over. Completing the SAVE program will help you, your employees, faculty and students, or church members to evaluate potential risks in your daily life and provide everyone of you with sound advice that you and the people you care about can rely on. Please contact us at https://inaheartbeatllc.com/contact/ to learn more about our group SAVE classes.
Follow us on social media for more updates, facts, and tips on active violence and safety: Facebook, LinkedIn, and Twitter.