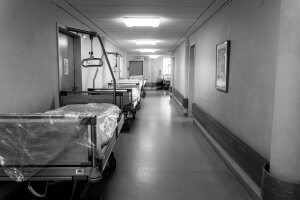 Of all workplace assaults that occur in the US annually, more than 70% of the cases happen in medical facilities. This number is only the tip of the iceberg as more than half of these violent incidents go unreported. Healthcare workers understand the psychological effects that poor health has on individuals. Irritability, anxiety, and at times violence, are some of the common behaviors patients display due to poor health and wellbeing. Are service providers expected to tolerate these cases of violence? Most certainly not. Just because they understand it, doesn't mean they need to endure it. Doctors, nurses, caregivers, and other staff in the industry, just like the patients, have rights to good health and safety too.
Recognizing Violence in Medical Settings
The bar is set very high for healthcare workers when it comes to being patient and empathetic in hospitals, clinics, and other health-related facilities due to the nature of the profession. Health care providers are aware that most, if not all, individuals that come to them are experiencing various levels of pain and discomfort. Patients and guardians getting frustrated or argumentative is a common occurrence. The shock, denial or sadness of diagnosis, treatment, costs, and many other factors cause patients to become emotionally exhausted and frustrated.
Common experiences that violent patients share:
Substance abuse

Community where violence is prevalent

Exposure to violence as a child or adolescent

Gang involvement

Diagnosis of psychosis or bipolar disorder

History of psychiatric disorder

Below-average IQ

No history of employment
Common violent behavior
Hitting
Kicking
Beating
Shoving
Verbal abuse

Being understaffed

Inadequate security staff

Long wait times and overcrowded waiting rooms

Unrestricted public access

Perception that violence is tolerated and reporting incidents will have no effect
Despite the calmness that most medical professionals maintain when confronted with violence in their workplace, they should be prepared and trained to recognize this danger and minimize the risk to themselves.
The Threat of Potential Shooting Incidents
Unfortunately, not all violence in healthcare settings ends with just hurt feelings or minor injuries. Some incidents escalate to, or even begin with, active shooting. Twenty-nine percent of the shootings in healthcare facilities in the US took place in the emergency department, 23% occurred in hospital parking lots, and 19% happened in patient rooms.
Managing Workplace Violence
Aggressive behavior is common in healthcare settings and this form of active violence poses a serious threat to the profession. About 35-80% of hospital staff have experienced physical assaults at least once in their career and around 80% of nurses do not feel safe in their workplace.
Physical restraints are often a last resort when it comes to violent behaviors in care facilities. Evaluation, de-escalation, oral medications, intranasal, and then intramuscular administrations are usually the initial responses. While this protocol is necessary for healthcare workers, they can still apply additional measures to protect themselves such as increasing security or partaking in a hospital-wide violence-response training course.
As not all care facilities are capable of employing more security personnel, the combined coordination of every worker to effectively respond to threats of violence is a very powerful way to improve hospital safety. Learn more about Why Effective Response to Active Threat is Important and How to Prepare.
Surviving Active Violence Emergencies (SAVE)
Hospitals, clinics, labs, and senior care facilities can benefit from In A Heartbeart's new program, Surviving Active Violence Emergencies (SAVE) which is specifically designed for the unique circumstances, layout, and location of every workplace. The group classes are tailored to the realistic scenarios that could arise and the realistic responses that employees could take. Protect your doctors, nurses, staff, and other patients through SAVE. Contact us today at https://inaheartbeatllc.com/contact/ to learn more.
Follow us on social media for more updates, facts, and tips on active violence and safety: Facebook, LinkedIn, and Twitter.